It's taken months, with, admittedly, some time out for winter weather, but Raffi is on the road again after his November disaster.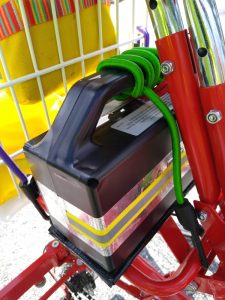 New configuration: The battery's under the seat, reversed,
with the horrible mount facing backwards. A small bungee
spider web is wrapped around the battery case handle,
and allows the battery to be easily clipped on and off.

After troubleshooting with a good riding friend (thank you, Mike!), and interested input from Ian, a fellow blogger (Aussie on a Brompton, highly recommended!), I set to work and did my best to resolve Raffi's dilemma — and failed. Repeatedly. However, I did verify that his battery could be moved from its original placement below the rear rack to under his seat, at the inner end of his rear rack, and that was key to the ultimate resolution.