It was errand day yesterday, but didn't turn out as expected in any way. First stop was a fabric store, to pick up some interfacing. Somehow I missed the implications of having ridden Raffi to the store, and asked for a bolt board. I use these at home to store fabric neatly. It was (ahem) a whole lot longer than Raffi's cargo shelf.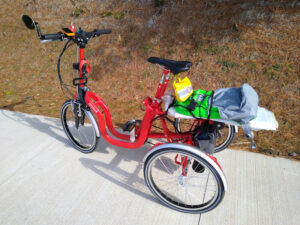 I tied it in a large plastic bag, stuffed it under the knapsack I'd brought for our second errand, and wrapped the cargo net through the knot and around it all. Cargo nets rule!
Then it was on to the hardware store. Based on the information supplied by the store's website, my target purchase on this errand excursion was in stock — 38 cans worth. I only needed two.