Maybe a Bridge?
August 7th, 2022
Warning
: Undefined variable $comments in
/home/public/wp-content/themes/inove/single.php
on line
18
Leave a comment
Go to comments
Our world is still amazingly lush, thanks to the near-perfect distribution of rain we´ve enjoyed so far.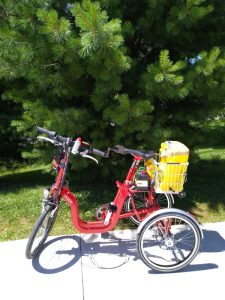 I had a few errands to run, so Raffi was the obvious vehicle of choice.
His basket and liner serve well, and, if anything, make Raffi even more obvious when viewed from the back.
And the yellow is so appropriately cheery! This trip I managed to stuff both basket and liner.
We took a turn around the park, and discovered that the path by the creek is being ripped up, the creek apparently being diverted in some way, and that a large hole has been dug where the path was.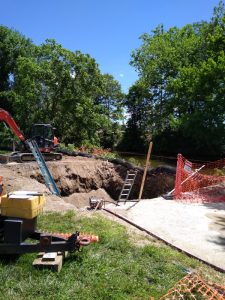 Amusingly, there appears to be a pump in the hole. It was pumping water out of the hole, and onto a mat on the old path, where it flooded the land. I assume the excavators know what they are doing? At any rate, whatever it going on here is clearly important for the massive apartment development being built on the other side of the creek, in a flood zone.
So the development is now impinging on this side of the creek. Since I´m cynically inclined, I naturally assume the worst — and that development brings out the worst in me.
But it looks as if my cynicism is misplaced, in this case: The thing being built is apparently a pedestrian/cycling bridge. It´s massive, but it´s been planned to allow access to a train station. So maybe not all bad? Though it is taking up a huge chunk of the very small park.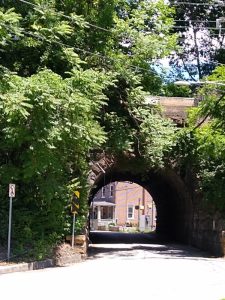 On the other hand, no one´s yet destroyed the nearby stone arches, one of the pleasures of our general geography. I can appreciate that unreservedly.
Distance: 8.1 miles (13 km)
Total distance for 2022, to date: 101.36 miles (163 km)