Horse Bays
July 28th, 2022
Warning
: Undefined variable $comments in
/home/public/wp-content/themes/inove/single.php
on line
18
Leave a comment
Go to comments
Here´s the record of the ride I almost failed to finish.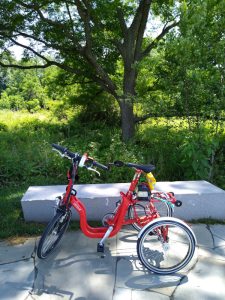 It was a lovely day, as quite a few have been so far this summer. We´ve had rain, but in quite reasonable amounts, and hot days, but only a few which were desperately hot.
We live in Quaker country — Society of Friends, a long-standing religious fellowship — and there´s an historic meeting house nearby. Raffi and I took a tour around the drive on this quiet week day.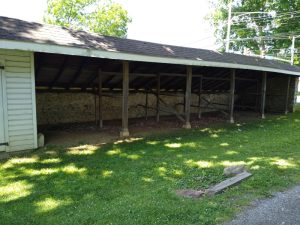 These bays were, once upon a time, presumably for horse-and-carriage travelers. You can still see very similar ones in the county to the east, notably even at Walmart, where many Amish shop, traveling to the store in buggies.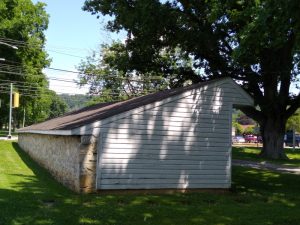 These have a stone wall at the back, and a severely sloped roof. This end has a shed; I don´t know if the shed was original, or if a stall was appropriated later for storage.
I´ve not been by on a Sunday, but I suspect it´s been a long time since a horse has dropped in. The road is a surface highway, and not ideal for bikes (I rode briefly on the sidewalk to reach this plot), much less for carriages, or livestock. It´s rather nice to see them still standing, though, as a reminder of the way things once were.
Distance: 7.2 miles (11.6 km)
Total distance for 2022, to date: 93.26 miles (150 km)