Postcard Perfect – With Trains
June 28th, 2022
Warning
: Undefined variable $comments in
/home/public/wp-content/themes/inove/single.php
on line
18
Leave a comment
Go to comments
It was that kind of day: the best of summer greens, just enough sun, sparkling creeks, and dappled paths.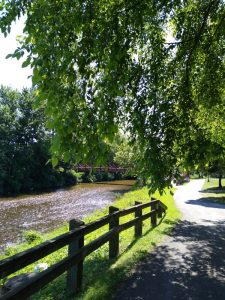 There must have been a disc golf tournament, judging from the huge number of golfing teams in the park, but I didn´t take pictures. The golfers seemed unusually intent.
It was also a five-train day — amazing, really! We hear the horns all the time (though mostly freight train horns, to be accurate), but it´s unusual to be in the right places to catch more than one a day.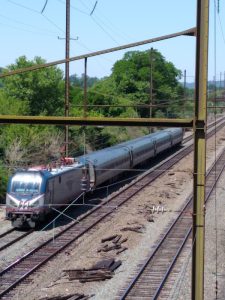 The Amtrak train above was actually the second we saw. The first was headed the other direction, and I didn´t realize it was there in time. I got a photo, but not a good one. (And, as it was, I had to take these through chain links!)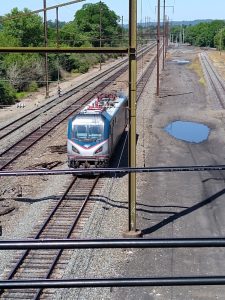 Train three was this solo Amtrak engine, which was moving extremely slowly away from my vantage point. I´ve never seen a lone Amtrak engine, except at the rail yard, much less having seen one moving so slowly.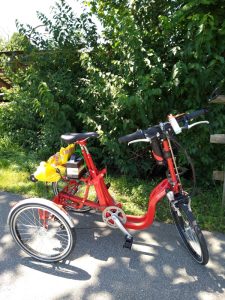 Today I remembered to snap a photo of Raffi, after my faux pas on our last excursion. Since I wasn´t planning to stop anywhere, I only took his basket liner, not the actual basket. There´s a lock inside, and a contractor garbage bag, in case we get caught in a sprinkle.
When we got home, I cleaned Raffi´s chain, but I´ll likely do it again soon, after I´ve replaced the kit. It´s ancient, and I´m not sure it´s really as efficient as it should be.
Distance: 8.12 miles (13 km)
Total distance for 2022, to date: 86.06 miles (138.5 km)