Snake Barriers
June 15th, 2022
Warning
: Undefined variable $comments in
/home/public/wp-content/themes/inove/single.php
on line
18
Leave a comment
Go to comments
Raffi and I made a most unpleasant discovery while out today. All along the creekside in a park we sometimes ride in appeared this hideous black tunnel.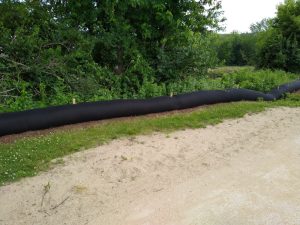 It´s probably an ´´erosion barrier´´ — a tube which appears to be filled with wood chips. This would be funny — not just ugly — if this weren´t a flood plain. See the sand? That´s left over from massive flooding — FEMA Disaster Level Flooding — that occurred last fall. Many people lost their homes and belongings. So maaaayyyybbbeee soil erosion is an issue here, except . . .
. . . that you´d think flooding was the real concern. A massive apartment complex is being built across that creek.  In a flood zone. Where a recent, awful, disaster occurred. You´d think flooding would be more of a concern that ´´soil erosion´´, wouldn´t you? But then, maybe you´d also think it was a pretty awful idea to build on a flood plain, next to a creek that is nearly land-high even in ordinary times, wouldn´t you?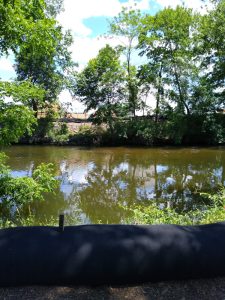 The massive units are apparently being built right up to the creekside, too. Another concrete tower is being erected behind the few trees left on the far bank. These ugly barriers are stacked three high on that side of the creek; I had thought they were a temporary thing while construction was ongoing, but there is no construction on the park side, so I´m wondering if these are considered some kind of permanent fix.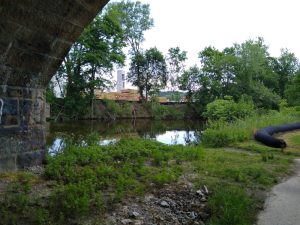 One of the cement block towers is (mostly) visible in the image above. Those tan piles are construction materials, and one end of a ´´soil erosion´´ snake is along the creekside, next to the path, on the right. This was once all trees. And, last fall, completely underwater.
That was all very annoying, but here are a couple of happier things we ran across. This is a window in a small, old barn in a back alley: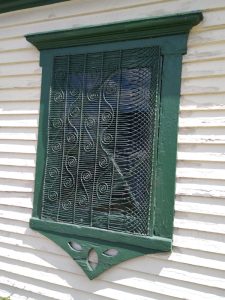 That screen is a work of art — literally! I don´t think I´ve ever seen a more joyous window.
These little purple flowers looked a lot perkier in person than in my camera, but I was happy to see them anyway. I dislike flowers — they make me sick, eyes-, nose-, lungs-type sick — so I keep as far away as possible. But if I liked flowers, blue or purple ones would be the ones.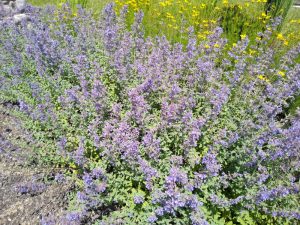 I didn´t take a single picture of Raffi today — that must be a first. And not a good precedent; I´ll have to do better.
Thank you, Jorts, for letting everyone know how important ALT tags are. I finally figured out how to do them in WP (or maybe they just became available?!?)
Distance: 9.13 miles (14.7 km)
Total distance for 2022, to date: 77.94 miles (125.4 km)