A Longer Excursion
June 10th, 2022
Warning
: Undefined variable $comments in
/home/public/wp-content/themes/inove/single.php
on line
18
Leave a comment
Go to comments
Today I took Raffi out in our Element, and we drove to a trail for a change of pace.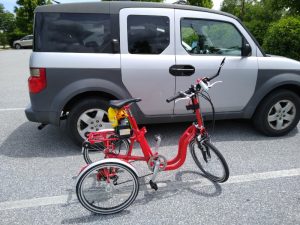 It's difficult to vary rides a lot in our town if you're taking shorter trips, and I was getting bored with our usual 6-8 mile/9.6-12.8 km jaunts, so the trail it was.
The Element is extremely spacious inside, but Raffi doesn't actually need much room, so he gets tucked between the front and rear seats on the passenger side, instead of in the cargo bay. The legroom in the back seat of an Element is amazing.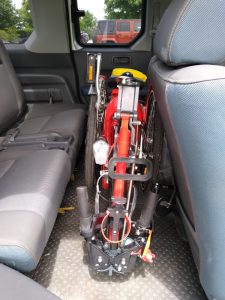 The only real trick for me is that Raffi is pretty hefty — over 40 lbs/18 kg without his battery — which is a non-trivial lift for me. But I can do it, so in he went, and we took off.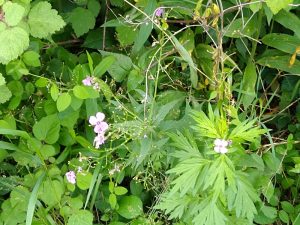 Both side of the trail were lined with lush greenery; I only regret that I failed to take a photo of the small, deep purple, wildflowers a little further along. These are nice, but not nearly as vibrant.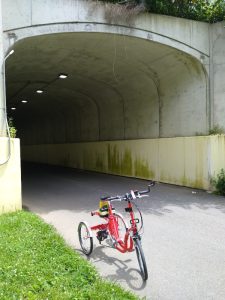 This particular trail has several tunnels — love those tunnels! — and this one, for reasons unknown, is lit along the peak. (We're under a highway here, but I'm seriously geographically impaired, and I have no idea where we are.)
One change since we were here last is that there are a few new spur trails leading to housing developments along the way — a nice innovation.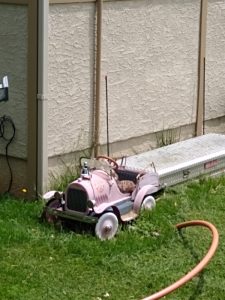 We are a quirky vehicle ourselves, so it was rather fun to spy this equally quirky fire truck along the way. The red has faded to a rather nice pink, but the fire bell is still a shiny chrome.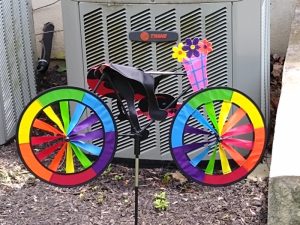 I'm not sure it is intentional, but June is Pride month, and this a much more colorful and interesting wind spinner than most, and very suitable for Pride — although the cyclist seems to have collapsed.
At this particular trail head there´s a station for filling water bottles, a drinking fountain, and a mechanic´s stand for some repairs, all of which have been around for quite a while. But now there´s also a book exchange.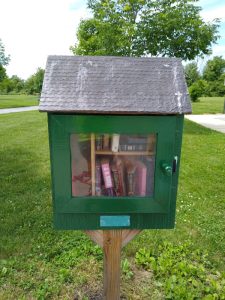 Interestingly, it isn´t a Little Library, but appears to belong to the county (or maybe the parks department? I don´t remember). I wonder why?
As a side note, in these times of incredible incivility, I was stunned to see that, everywhere the trail crossed a road, literally every single driver slowed and then stopped to let us pass, well before we reached the side of the road. In the seemingly endless car/cycle controversies, this was a joy to experience. Naturally, I waved our thanks and appreciation, hoping to extend the good feelings all around!
This was Raffi's longest single ride yet, and it was terrific all around.
Distance: 13.13 miles (21.1  km)
Total distance for 2022, to date: 68.81 miles (101.7 km) (This is corrected from previous tallies.)