Color and Texture
June 3rd, 2022
Warning
: Undefined variable $comments in
/home/public/wp-content/themes/inove/single.php
on line
18
Leave a comment
Go to comments
The first blooms of summer are already gone, and summer greens are taking over. They looked especially fine under today's slightly overcast sky.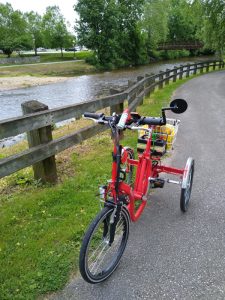 Today's temperature — 63F (17C) — made for a cool and comfortable ride, though the air felt slightly heavy, and I was a bit concerned about rain. Raffi carries a giant garbage bag in his basket, but I'm not thrilled about potentially having to deploy it.The best sight of the day was this tapestry: all those greens and all those textures! Marshy waters often go underrated, don't you think?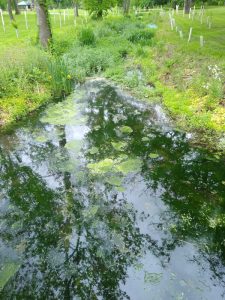 On the other hand, the larger creek is looking a lot like mud flats — a lot of browns going on here, with silt and sand all over the banks and the pathway.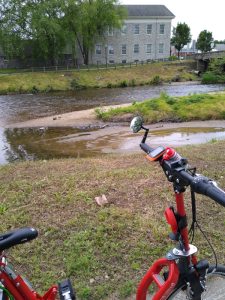 The wind didn't seem terribly high today, but the waters were tumbling and rushing like mad, from a source I couldn't identify. It wasn't the sky — we got  home without a sprinkle!
Distance: 6.59 miles (10.6 km)
Total distance for 2022, to date: 42.81 miles (68.9 km)