Everything in its Place
May 20th, 2022
Warning
: Undefined variable $comments in
/home/public/wp-content/themes/inove/single.php
on line
18
Leave a comment
Go to comments
Whoops — I'm so far behind! This post is from the end of April.
We ran a few errands on this beautiful, cool, spring day today, thrilling to the 66F (19C) temperature. That's peak riding comfort, as far as I'm concerned!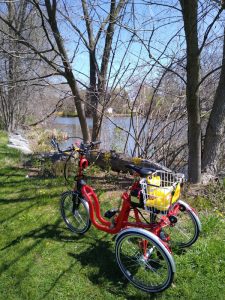 Running errands didn't mean, though, that we missed out on checking out a bucolic spot or two . . .
We've also got the final installation details for Raffi's latest basket sorted, using one bungee on the back and one on the front. One bungee stays on the basket, and one on Raffi's rear rack (without, fortunately, interfering with the fold.)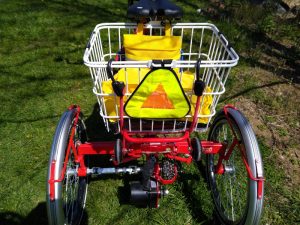 I'm happy that this system is simple, and also that the triangle isn't at all obscured. (Raffi is folded after each trip, and his basket has to be removed before that can happen, so making the process as friction-less as possible is a high priority.)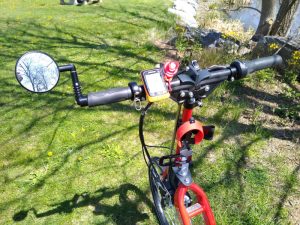 Raffi's cockpit is working very well, too: bell (not the OEM — I prefer this one); orange GPS/odometer; dog spray. There's a fold-up water bottle holder below, but it has to get a lot warmer before it gets used. None of these things interferes at all with Raffi's fold — they just remain static on the handlebars.
We rode around to all the local bike shops today, looking for new helmets. No luck. I insist on hi-vis, and the only one I could find in stock was Giro, who seem to have gone to a "universal" size, which I don't like at all.
I think we'll be finding a very quiet time, sometime in the next week or so, to check out a rural shop that carries a huge assortment. My helmets are both older than they should be — Covid time caught me out!
Distance: 7 miles (11.2 km)
Total distance for 2022, to date: 30.06 miles (48.4 km)