Windy and Soggy
April 27th, 2022
Warning
: Undefined variable $comments in
/home/public/wp-content/themes/inove/single.php
on line
18
Leave a comment
Go to comments
I haven't been recording the few rides I've taken since Raffi's marvelous repair; this is the first post-about-a-ride I've written this year.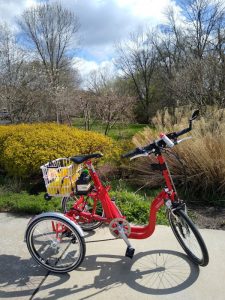 Raffi is a Di Blasi R34, and his battery originally
sat under the rear rack. It now sits under the seat,
on the inner edge of the rack platform.
We'd had a night of heavy rains, and the sky was active this day, but it was a good bet that we'd get a ride in before more rain fell. This turned out to be the case — and when the "rain" came, it was light snowflakes, instead!
We stopped by another little library and dropped a few books off. We're culling, and some seem more likely for a little library rather than a charity shop.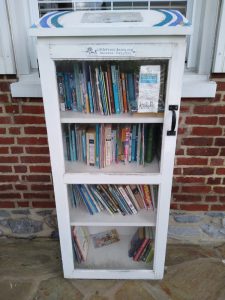 I'll try to keep an eye out to see what moves, though. It's reasonable to assume that some books are more appealing than others — and this may vary by little library, I suspect.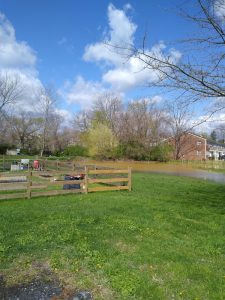 After a rather ordinary night of steady rain, there were signs of flooding everywhere, and the ground in local parks were marshy. In places, the paved paths were unusable, especially for Raffi, who has a low electric motor.
By the time we got back, the wind was ferocious, but it was marvelous to be out again. The rest of the week may be more clement; we'll see.
Mileage since Raffi's repair: 23.06 (37.1 km)