Raffi is Back!
April 22nd, 2022
Warning
: Undefined variable $comments in
/home/public/wp-content/themes/inove/single.php
on line
18
Leave a comment
Go to comments
It's taken months, with, admittedly, some time out for winter weather, but Raffi is on the road again after his November disaster.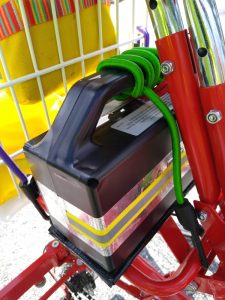 New configuration: The battery's under the seat, reversed,
with the horrible mount facing backwards. A small bungee
spider web is wrapped around the battery case handle,
and allows the battery to be easily clipped on and off.

After troubleshooting with a good riding friend (thank you, Mike!), and interested input from Ian, a fellow blogger (Aussie on a Brompton, highly recommended!), I set to work and did my best to resolve Raffi's dilemma — and failed. Repeatedly. However, I did verify that his battery could be moved from its original placement below the rear rack to under his seat, at the inner end of his rear rack, and that was key to the ultimate resolution.
Where I failed was in creating the connector. Since Raffi's original battery mount is a useless piece of plastic, and had to be circumvented, and Raffi can't be folded with the battery in place, the wiring harness, running from battery to motor, had to disconnect.
After repeatedly failing to get far too many Anderson power poles to do my bidding, I finally found an imaginative pro at a small auto electrical shop (Keystone Auto Electrical) I'd seen while driving around.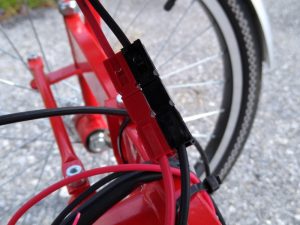 Look at those tidy little connectors!
So beautiful! So strong! So . . . effective!
Raffi's not exactly an auto, but Jerry is clearly the kind of person who relishes a different kind of query. He took my baby in hand, told me to return in an hour, and returned Raffi to me in full running order, having straightened out those Anderson connectors properly, and crimped and soldered them into sturdy compliance. No one who reads this blog will fail to understand how overjoyed I was — and am!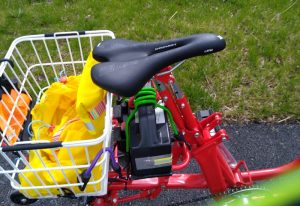 Raffi and I have ridden 23.06 (37.1 km) since his restoration. Twenty-three glorious miles, and more to come!
Happily, moving the battery to the back of Raffi's rack, and under the seat, doesn't interfere with his new basket at all.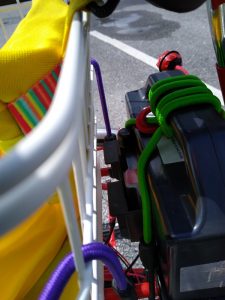 The back of the basket — a standard Sunlite model with handles — sits next to the battery's old mounting plate, which had to be retained (though not as a mount) because of the way the contacts work with the battery.
The basket is bungeed in place, too, which is hardly elegant, but it is efficient and simple, which is all that's needed. (The basket, too, must be removed to fold Raffi.)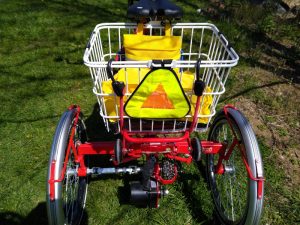 The basket's designed for front handlebars,
as a lift-off model, but works perfectly,
without the front mount, on Raffi's rear rack.
The down side to the new battery placement is that Raffi's rear rack has a rather restricted weight limit — 22 lbs (10 kg) — and the battery weighs 6 pounds (2.8 kg). I'm not as concerned about this as I might be, though, as the battery now sits on the highly reinforced end of the cantilevered rack.
Nonetheless, I respect the weight limit, and use a backpack for any excess. As I'm riding for pleasure, and tend only to do light — in every sense — errands while cycling, the limitation isn't an issue for me, especially in light of the massive benefit of getting rid of the lower mount.
Raffi is a Di Blasi R34 tricycle, and I dearly wish Di Blasi would take note, here, and do some re-configuring of their own. These modifications circumvent the horrible Di Blasi battery mount, and make my little trike the practical device it's meant to be. As a bonus, it's also far easier to remove the battery, since the OEM configuration requires reaching awkwardly under the rear rack to remove the battery for folding. Win-win!
All may not be right with the world these days, but all is right with Raffi. I'm thrilled to settle for this not-small-to-me victory!