I haven't been recording the few rides I've taken since Raffi's marvelous repair; this is the first post-about-a-ride I've written this year.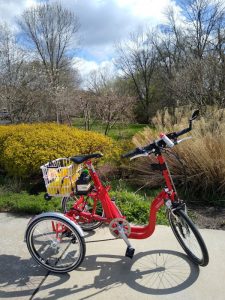 Raffi is a Di Blasi R34, and his battery originally
sat under the rear rack. It now sits under the seat,
on the inner edge of the rack platform.
We'd had a night of heavy rains, and the sky was active this day, but it was a good bet that we'd get a ride in before more rain fell. This turned out to be the case — and when the "rain" came, it was light snowflakes, instead!