Visibility Modifications
Raffi's situation is still being sorted, so it's on with a non-riding post, again.
My winter cycling coat is black, and when I start wearing it, I move a safety triangle from my fall coat to it.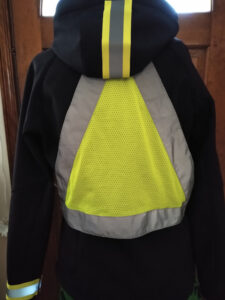 This is the first year I've worn this particular coat; I bought it at Costco in Montreal before Covid hit, and then didn't have much opportunity. It was really inexpensive, and like a lot of things Costco, is a clever riff on a much more expensive style.
It suits me perfectly — the right features, and no more. So it's warm enough, but not too warm; stretchy enough to flex when I move; just the right length for cycling; has zipper pockets; and a zipped chest pocket the right size for my electronic device in its case. And I discovered that the hood fits perfectly over my helmet without restricting head movement!
On the downside, it's black. Or the sort-of-downside, since that means that it's potentially a good choice when not riding. But visibility is my thing, so I made some changes. There's the triangle, of course, but my jacket isn't the only bit of black gear I wear in winter.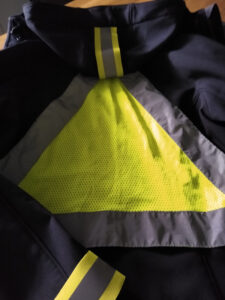 Snap-on hood stripe; safety triangle, and wrist band.
Some of my gloves are black, too, so I added a florescent band to the left wrist — the one I use when signaling in traffic. And I added a florescent stripe to the hood — since, when the hood is up, it's no longer possible to see my screaming yellow helmet from the back. That wide stripe, with the reflective middle, compensates nicely.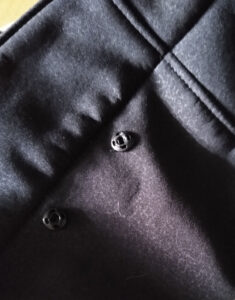 Snaps for the hood stripe.

Because I wanted my jacket to fly under the radar in non-cycling situations, I attached the wrist band and hood stripe with snaps.
When the bands are removed, one half of the snap system shows, of course, but, as the snaps are small, and black like the coat, they're pretty discreet. You'd have to really look for them to know they're there, which is fine with me — only a fellow gear maniac like me would be inspecting my jacket that closely!