Errands and Other Stuff
It was errand day yesterday, but didn't turn out as expected in any way. First stop was a fabric store, to pick up some interfacing. Somehow I missed the implications of having ridden Raffi to the store, and asked for a bolt board. I use these at home to store fabric neatly. It was (ahem) a whole lot longer than Raffi's cargo shelf.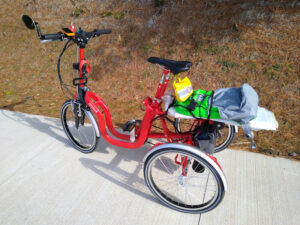 I tied it in a large plastic bag, stuffed it under the knapsack I'd brought for our second errand, and wrapped the cargo net through the knot and around it all. Cargo nets rule!
Then it was on to the hardware store. Based on the information supplied by the store's website, my target purchase on this errand excursion was in stock — 38 cans worth. I only needed two.
However, there were zip in stock, at which point I realized that the website had changed my store of record to another scores of miles away — and had provided the inventory for a third, irrelevant, store. It's done that before; you'd think I'd have noticed, and triple-checked.
For the first time, I partially folded Raffi, and walked him around the hardware store. (There aren't any bike racks or any way to securely lock him up outside.) I forgot to take a picture, though.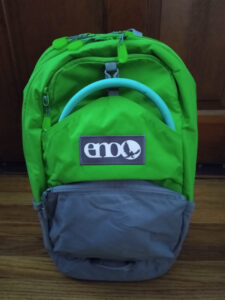 A high sternum strap on the other side
keeps the straps from shifting; that's important
since I treat Raffi's battery like the gold it is!
The issue is, of course, Raffi's battery, which has to be removed in order to fold him up. I bought this particular backpack specifically for that purpose, though, and Raffi's battery fits perfectly in the padded center deep pocket, still leaving lots of room for whatever we're picking up. (As long as it isn't a bolt of material!)
Raffi's front wheel tends to wobble when he's rolled about in this way — something to do with the coordination between the skateboard wheels in the back and his front tire, I expect — but rolling him about worked just fine. Even though this errand was a bust, I was happy to have proof of concept for traversing a store with Raffi in hand.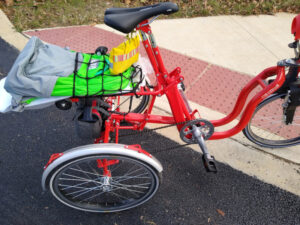 On the way home we discovered that asphalt patches had been added to high curbs along a bike and pedestrian trail developers had been required to put in. The road here is shared with HGVs, and it's relatively narrow, but the high curbs prevented any reasonable use of the paved trail. The final paving is apparently still far away, but this improvement means that most of the trail is now usable — and that much safer for cycles. Hurrah!
Sadly, there was one other event of note on this trip — but that's for the next post.
Mileage: 8.8 miles/14.1 km