A Babbling Creek
If there such a thing as a perfect autumn day, this was it. Cold and crisp, but not too cold or crisp, and not particularly windy.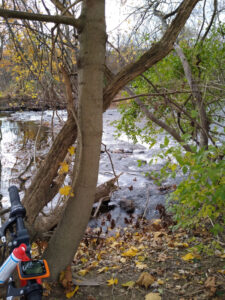 One of the local creeks was filled with madly rushing water. Is there a better sound than that of tumbling water over rocks? (At least when there's no imminent chance of flooding!)
Someone, or someones, got a bit excited about the upcoming holidays and has/have already run a garland along a pedestrian bridge over a creek. It's not even Harvest Holiday week!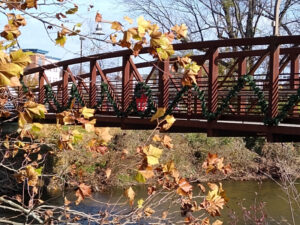 There's a red lantern in the middle. It's surrounded by fairy lights, and I assume it's lit at night — and probably looks wonderful in the dark. Maybe it strikes a slightly odder note when framed with autumn leaves?
We explored some new streets today. These old barns/coach houses/garages enchant me. I always half-wish I lived in one!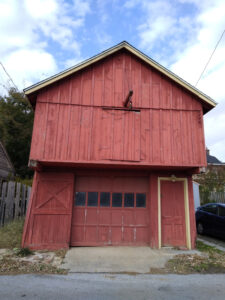 I'm not sure what this one was originally. It has a sliding barn-style door (on the left), so I'm guessing the garage-style door was added later, to actually accommodate a car.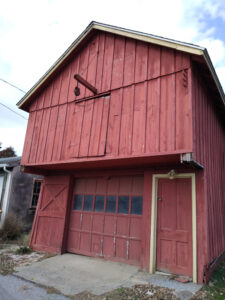 But the loft opening and the pulley suggest it originally was a small barn of some kind. Perhaps with animals living below?
I want a pulley like that for our attic, which is accessed by pull-down stairs. I'm thinking it would be enormously practical — and very cool!
Mileage: 7.12 miles/11.5 km