What I Wore in November
Well, autumn lasted for about two rides, and then it was 40F/4.4C, and time to get a little more serious about warmth while riding.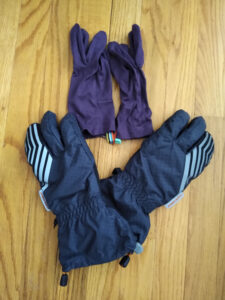 Out came the lobster claws!
Weirdly, the lobster claws aren't as warm as one might hope, which is why I wear them with the thin Smart Wool liners you see above them. My fingers are numb at the tips on one hand, and very susceptible to cold on both hands, so keeping them toasty is a priority.
On cold, but not quite-so-cold days, I like these gloves, with their fluorescent flip-over mitts. The lines on the finger, and the stripe between the yellow and black mitt parts, are reflective, and the dots on the palm are grippy. Someone put a lot of thought into these gloves!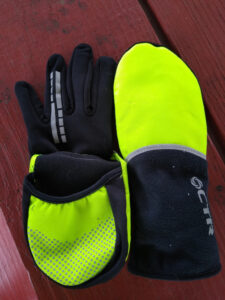 Unlike every other pair of gloves which claim to be tech-friendly, this pair actually work with touch screens — a big plus if one is documenting a ride when digits beg to stay cozy.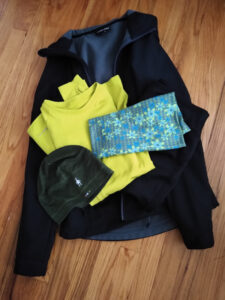 Otherwise, the drop in temperature meant a heavier jacket — this one is just a basic jacket from Costco, with a scuba (?), or at least wind-blocking, exterior and fleeced interior; a thicker synthetic thermal top; leggings, also with a fleece interior; Smart Wool helmet liner; and a cowl (later I'll replace this synthetic one with a wool one, but this works for now.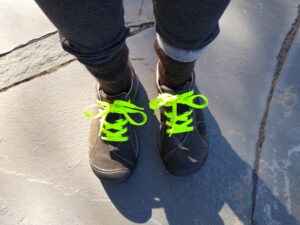 Wool socks and shoes, per the October post.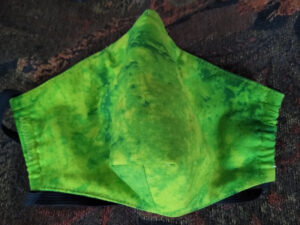 And mask, too, of course.
Once we're around 40F/4.4C, Raffi gets a battery cover, too: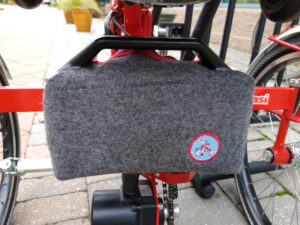 And then we're set. Once it drops below freezing, we'll have to re-evaluate, but this works for now.