Coffeeneuring 7
November 15th, 2021
Warning
: Undefined variable $comments in
/home/public/wp-content/themes/inove/single.php
on line
18
Leave a comment
Go to comments
For our last Coffeeneuring run, Raffi and I headed to a small park I have often driven past, but never entered.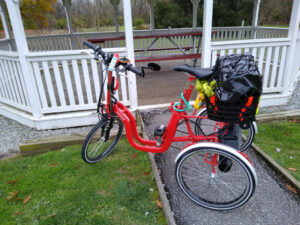 Except for the temperature — cold! — it seemed much more like a March day than one in November; the wind was high and we fought it a little bit at times. But the ride was crisp and refreshing, and a fine end to this autumn's Coffeeneuring.
No snack or lunch today, because Raffi and I had errands to run, too. I drank my coffee in a small gazebo while Raffi waited patiently outside.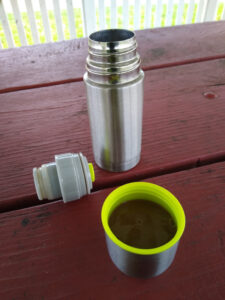 It was La Colombe again, but I made it transportable by opening it the night before and allowing the gas to escape before packaging it in the morning. Hot coffee might have been a better choice on this particular day, though . . .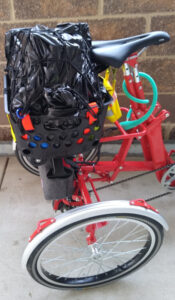 We ran a couple of errands today, too, stopping to pick up a batch of binders and page protectors at an office supply store. Raffi's not really a cargo trike, and we tested his basket to the limit in volume, if not weight.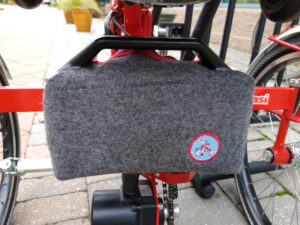 Raffi's battery donned its winter coat today for the first time. Cold is apparently not kind to lithium ion batteries, so we're treating Raffi's with care.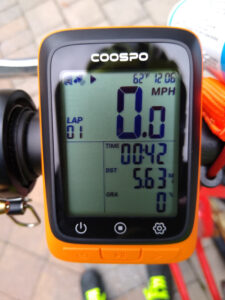 My new cycling GPS arrived far faster than expected, and performed beautifully. As simple as it is — and as inexpensive, at around $50 USD — it does exactly what I want it to. The display is very easy to read, and I was happy to discover that it locks perfectly into my existing Garmin mount.
Mileage: 9.09 miles/14.6 km