Not-a-Coffeeneuring-Run
No coffee today; we've already done our two permitted Coffeeneuring excursions for this week, so this trip was just for fun.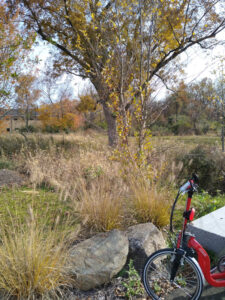 Autumn has just barely arrived, and is already almost gone. I lived for years where there were no seasons, and hated it, so I don't really mind the changes, but I admit to wishing that fall lasted, oh, say, twice as long as it does.
Leaves are all over the place, and our brief spate of vibrant color is gone. I do like these rusty brown tones, though they lack drama — and I love the crunch beneath tires and feet.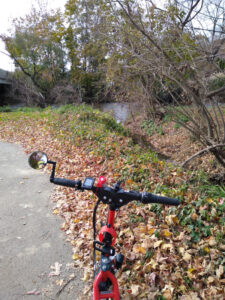 Except for Raffi, my photos today are oddly dull — maybe my device is feeling a bit of that fall mood?
I'm sad to note that my little Garmin GPS, a faithful companion since 2012, today gave up after years of wonderful service. It's seen me through travels on a vintage Italian folding bike; a previous red tricycle; and hundreds and hundreds of miles on my beloved Brompton — not to mention the hundred miles or so recently ridden on Raffi.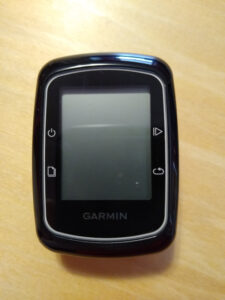 I'm really sorry to see it go, not least because it was simple perfection — exactly what I needed, and nothing more. I've already ordered a replacement, but, sadly, not a Garmin, since it seems I can no longer get one that isn't bloated with features I don't need or want. We'll see how the new GPS goes; it's got a lot to live up to!
On a happier note, it's never a bad day when I see a train!
Mileage: estimated, due to my poor Garmin having quit partway through, but probably accurate at around 7 miles/11.2 km