Coffeeneuring 5
It was a beautiful, much warmer, day today, for our fifth Coffeeneuring excursion.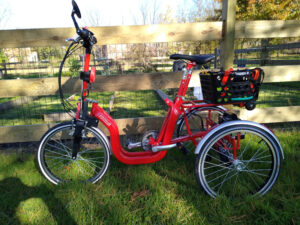 Although I've ridden Raffi for over 100 miles/162 km,
he still looks like new. We don't ride in rain, which I'm sure helps.

I had bundled up Raffi's battery before checking the temperature. I ended up removing his felt battery cover, and also had to dig out a lighter coat for me. (For the record, I minded neither!)
Our destination was another of the many pocket parks in the area. This one has a small community garden, which is beautifully kept, and is now ready for winter.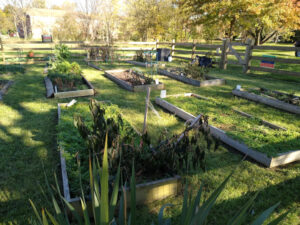 This area continues to become more diverse, and this garden's community message is very clear: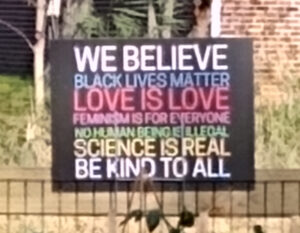 Science keeps us healthy, and diversity keeps us strong — and neighbors who get along make a beautiful garden!
Lunch was watermelon radish pickles, grapes, and a Hungarian bread salad — or maybe not Hungarian? I found it on a Hungarian blog. Translating the recipe was fun — the only language I speak with any facility is English — but later noticed that Jamie Oliver also touts something similar.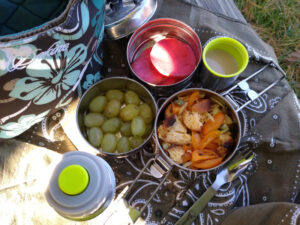 Coffee is the usual Counter Culture 46.

It's bread, onions, capers, tomatoes, a tiny bit of olive oil, and white wine vinegar, all of which,combined, make for a fine vehicle for using up stale bread.
I'd planned a longer ride, but ran into some asphalting equipment, so we detoured. Culturally, we're doing fine in this part of the world, but perhaps some other issues need addressing.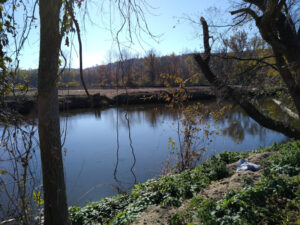 For some unknown reason, this is a building site. Next to an often-overflowing creek. On a flood plain. In a FEMA disaster area. Who thought this was a good idea?
Mileage: 7.12 miles/11.5 km