What I Wore In October
November 4th, 2021
Warning
: Undefined variable $comments in
/home/public/wp-content/themes/inove/single.php
on line
18
Leave a comment
Go to comments
On days when I ride, all I want is a fast escape, but I have a few executive functioning difficulties, so I like to work out the flaws the night before. Assembling kit is essential, and it's really helpful if I keep track of what I'm comfortable wearing in any given temperature range.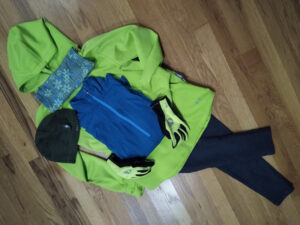 It's also been a while since I've ridden in cooler weather, so it's time to gather data. This is what I wore on a morning that ranged from 50 F/10 C to 65 F/18 C.That's a scuba (?) hoodie (wind-blocking), leggings, a merino quarter-zip top, gloves, and a Smart Wool cap for under my helmet. (My ears get cold early in the autumn!)
I don't usually wear the the printed Buff-like scarf that's lying on the neck of the jacket unless it gets a lot colder — and these days, there's a mask at my neck anyway.
It's time now to swap out my Keen biking sandals for my Keen biking shoes (they have a nice stiff sole, and clips on the bottom, which I don't use with Raffi), Smart Wool socks, and screaming green laces.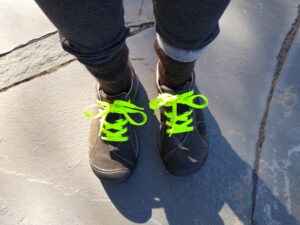 I LOVE these shoes. It's tremendously difficult to find biking shoes with a nice wide toe box — and room for fluffy wool socks. They're ancient, though, and I dread the time when I'll eventually have to find new ones.
And, inevitably, rounding things out, a mask.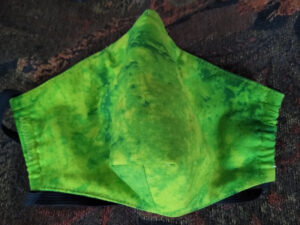 I don't wear it while riding, but I do put it on so I can pull it up if needed. An extra lives in Raffi's saddle bag, and there's a third so that one can always be in the wash. (It's fabric: two layers of tightly-woven cotton quilting fabric lined with a silk filter — a highly effective combination, according to the ACS.)
At the upper range, I was nearly too warm. (That's what zippers are for!) This worked well, though, and this set up will probably see me through most of the fall.