Coffeeneuring 3
A little jaunt to start the new week, and our third Coffeeneuring excursion.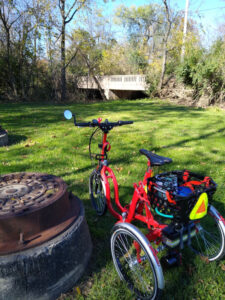 We went in search of a park we hadn't known about, but probably didn't find it. This is not-a-park-by-an-overpass — and next to a stream. No matter; we had a fine time, and this was a place we had never been before.
I packed lunch in a little tiffin, but forgot to take a picture of it before it was opened.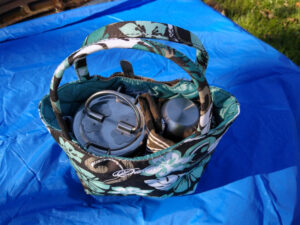 The small padded bag came from our bento supplies — there's just enough room inside for the tiffin, napkins, and a tiny thermal bottle. A pocket on the side has a magnet, so I stash a handy stainless utensil there; the magnet ensures it won't fall out.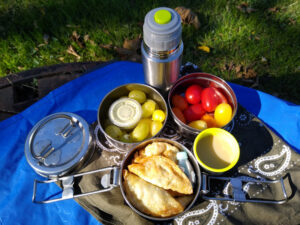 Lunch was gyoza; a bit of cilantro sauce; grapes; tomatoes; and a dark soy sauce in a small flying pig container. I wondered if the gyoza wouldn't be very nice cold, but they were actually quite tasty, thanks to a thin, light, wrapper, and assertive seasoning.
Since we didn't actually find the park, I sat on a "Sanitary Sewer" cover, on top of the light waterproof "blanket" kept in Raffi's basket. Not a picnic table in sight!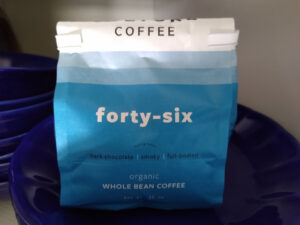 No La Colombe disasters today: The coffee was Counter Culture 46, brewed at home. No nitrogen involved, and no effervescence, which was just as well. (But, alas, no silky froth either!)
Mileage: 5.1 miles/8.2 km