Coffeeneuring 1
October 31st, 2021
Warning
: Undefined variable $comments in
/home/public/wp-content/themes/inove/single.php
on line
18
Leave a comment
Go to comments
Owing to various circumstances, Raffi and I didn't make it out during the first week of the Coffeeneuring challenge. This may make it difficult to complete the event . . . but we'll see. And hope the weather cooperates.
Our first ride was on October 28, to an old grove tree stand which happens to have convenient, if concrete, benches, allowing for a bit of refection and reflection.
I had a fine small snack along with my coffee, which included grapes, some water biscuits, and a lovely gouda. With toothpick, to allow for elegant retrieval of the cheese squares.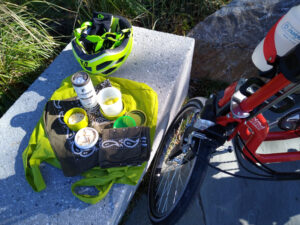 Disaster nearly struck when I realized that I've never been able to open La Colombe coffee cans. (Can anyone?) Fortunately, Raffi's tool kit offered an awkward, but functional, solution.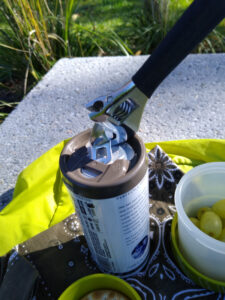 Once home, I slipped this handy gadget into Raffi's saddle bag. It's light and flat, but strong. We bought 8 cans of La Colombe for Coffeeneuring, so it will presumably see a fair bit of use.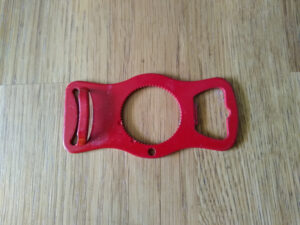 Raffi and I haven't been out in nearly a month. We live in an Ida-related FEMA disaster zone; many trails still haven't recovered, and infrastructure recovery is likely to take years.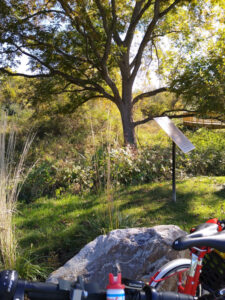 But it was a joy to be out today, and to enjoy a bit of autumn — the very best season of the year!
Mileage: 8.04