A Few Thoughts About Coffeeneuring
October 31st, 2021
Warning
: Undefined variable $comments in
/home/public/wp-content/themes/inove/single.php
on line
18
Leave a comment
Go to comments
A variety of things, post-Ida, have kept Raffi and me out of commission, but now we're about to get back on the road in my favorite season — autumn. First on the agenda is Coffeeneuring.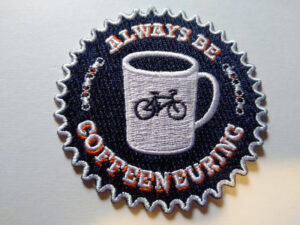 If you complete the challenge, you can buy a beautiful
embroidered patch. Well worth it!
This one is from a former year, earned honestly,
because I'm not a lying liar.
MG, of Chasing Mailboxes, developed the delightful practice of Coffeeneuring just over a decade ago.  The idea is that you meet a specific set of challenges over a specific time frame, cycling for a specific number of miles, while stopping for coffee or another beverage each trip.
I've participated in the past, and really enjoyed the experience. In Pandemic Times, the process may be a little different — people like me are still not going to spend any appreciable time in a coffee shop — but the event goes on, and I intend to attempt to meet the described targets this fall.
But this year I won't be formally involved. Somehow, the process has become a lot more bureaucratic, and involves completing a Google docs form. I'm never going to do that . . . Google, now not merely useless, but truly evil, is best avoided if at all possible, and I don't fancy sending any personal information through its systems if I can avoid it.
The Coffeeneuring submission process itself is already pretty stringent and not lacking in complexity — though that's theoretically part of the eccentric fun. For each trip, participants are asked to fill out a control card, photograph it, sign it, and email that photo and at least one other to MG — and then repeat all the information on a completed a Google docs registration, too.
Whew.
And I admit, also, to being baffled by the requirement that participants keep documentation, as described in the rules:  "[I]n the event the Coffeeneuring Challenge Committee reaches out to you for a spot check". Spot checks? Apparently for fraud?
MG also says that she is aware of only few cases where a participant has cheated in the decade-plus history of Coffeeneuring . Even MG says that the rules are "maybe even sometimes breakable".
In that context, what does cheating even mean? There are no graduated prizes, no one is taking anything from anyone, and dishonorable behavior just means, in this case, that a person is a jerk.
Which is hardly nice, but how is the behavior of a couple of jerks exactly relevant in the overall scheme of things?
All participants need to "keep documentation" because a couple of people were lying liars over the course of ten years? There's something just a bit unsavory, and seemingly kind of unnecessary, about asking participants in what once was a casual, light-hearted, event, to agree to stringencies designed for a lowest common denominator — lying jerks — especially when that denominator seems to hardly exist.
Coffeeneuring is a lovely concept: MG and crew get to make of it what they will, and so do others of us who cycle with coffee. For our part, Raffi and I will just muddle along, individually accepting the Coffeeneuring 2021 challenge, without being concerned with this strange ramping up of what used to be a quirky, peculiar, fun, little event.
I'll do my usual blog posts; and we'll leave the bureaucratic details to those who don't mind them. That's win-win, of a sort.