The Cabbage Run
Fermenting is happening in our household, so when Raffi and I went out for our ride this morning, we picked up a cabbage. (Yes, it felt a little strange riding around with just a cabbage in the basket, but, hey, why not?)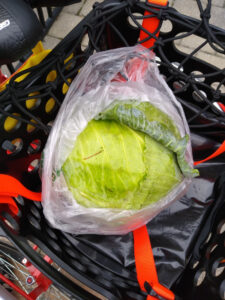 The outer leaves will be sacrificed for a barrier in the pickle jugs. But that's not all we did.
One of the weird joys of our particular suburban existence is that we're surrounded by little pockets of green, and creeks, and trees. Today, we found ourselves in a little copse — practically in the woods!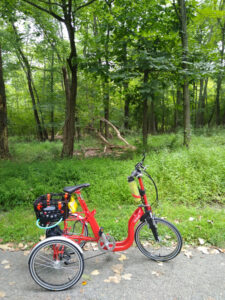 We also stopped to admire a favorite spot. This one's ever-changing, with lots of botanical variety in and around the river, and frequently changing water levels. The water's never terribly deep, but we did see kayakers here a couple of weeks ago, and I'm deeply regretting not having gotten a photo.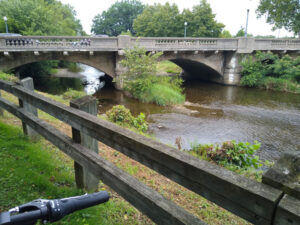 Kayaks are very tolerant of shallow slips of water, but even so, that was the first time ever I'd seen anyone — two anyones — intrepid enough to give it a shot on this particular stream. Raffi and I have been content to simply look!