Hot Days and Shade Trees
It was the end of another very hot week, though nothing like what other parts of the country are dealing with.
The shade was quite comfortable, as Raffi and his sibling can attest.
I've now ridden nearly 50 miles (80.5 km) on my little Di Blasi R34, and I'm loving the freedom he affords me! That would be 50 miles since I've started formally tracking — the actual mileage is probably at least 20% greater. That's not much in the full scheme of things, but now I do wish I'd been tracking mileage from the start.
The park we stopped at is a lovely little oasis, with both old growth trees and newer ones.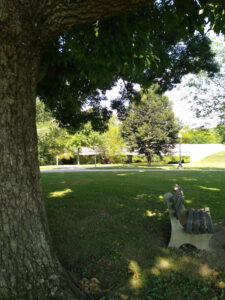 We picnicked, and I ate leftovers. I keep that kind of silly little bamboo spork in Raffi's saddle bag. It stores in a neat little cork packet, and means I can always have a bite, even if I've forgotten to pack a utensil along with the food. (It happens!)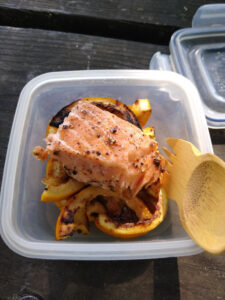 I think Raffi and sibling enjoyed the view as much as the humans did. It's good to find a little peace in what is an increasingly chaotic world.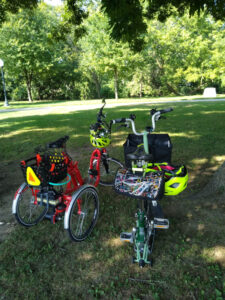 Oddly, after noting last Saturday that the majority of people we encountered wore masks, this Saturday almost no one did — and far more people were out. That was less cheering, given what we're seeing about the continuing threat of Covid variants.