Something Different
Raffi and I did something different today.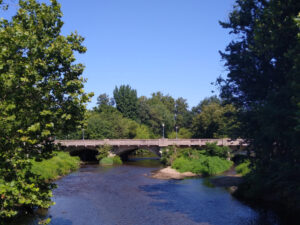 But first, enjoy this view — we did !
Under this gorgeous sky, we rode 9 miles (14.5 km), just poking around. When we found ourselves near a hardware store, though, we decided to go in.
However, I was extremely reluctant to leave Raffi outside, locked or not — there was no place to lock him, anyway — in an area where large trucks full of tools were constantly moving in and out. Raffi is, essentially, irreplaceable, and a rather important part of my life.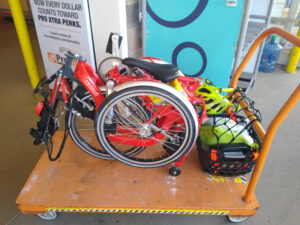 I'm not exactly going to claim that I have no faith in my fellow humans. Let's just say I'm a realist — and that it's better to avoid difficulties than to court them.
I loaded Raffi on a cart and trotted into the store. Worked a treat!
No one noticed, except a checker who looked confused — but that may have been because I went in the out door by accident. No harm  done.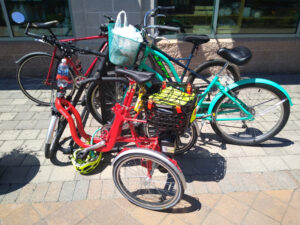 We stopped at a little market, after, and Raffi had a lot of company when I went in.