Rear-View Mirror
August 5th, 2021
Warning
: Undefined variable $comments in
/home/public/wp-content/themes/inove/single.php
on line
18
Leave a comment
Go to comments
While I'm toting up Raffi's accessories, I should note that I've added a Mirrycle cycle mirror to his left grip.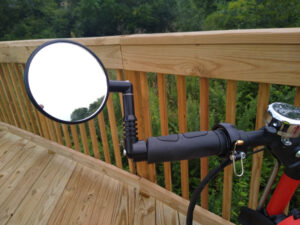 A rear-view mirror is incredibly helpful, particularly if one rides on streets (as I do), but even if most of the riding is done on pathways. It's essential for safety when sharing the road with motor vehicles, but also handy for keeping an eye on upcoming cyclists.
This type of mirror sets into the end of the handlebar, which meant that I had to cut out the end of the grip on my Di Blasi R34 tricycle. That was actually quite easy to do; it just requires attention and care. (I've done this a lot on previous cycles and other types of grips.)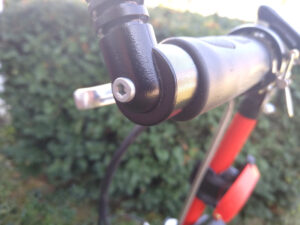 When folded out, the mirror makes Raffi just too wide to go comfortably through his exit door, so I turn it inwards at the start and finish of each ride. That's simple to do, but does mean that the mount can loosen over time, so it's worth checking the anchors now and then.
I have had this brand of mirror on every one of my cycles, and have found it to be clear, reliable, and durable — I'd recommend it!
I have no affiliation with Mirrycle, except as a paying customer. See my Disclaimer page for details.