Changes
There's been quite a boom in expensive rental housing in our area, with massive apartment complexes going up like mad.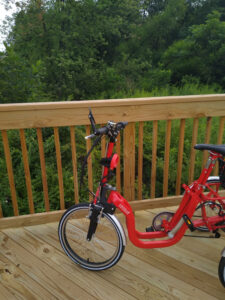 Some are utterly grim, like the Soviet-era styled complexes that have gone into deserted sections of fading shopping malls, but some are making an attempt at creating an environment that isn't quite that awful.Or maybe the developers are being forced to at least attempt something better. Several promote access to bike paths as a location benefit, and some may even eventually hook up with an envisioned vast cycling loop that is someday expected to cover the region here.
An immediate effect has been — or will be, once construction is fully complete — better cycle access to local shopping, including two small shopping centers with access to a grocery store, a hardware store, an electronics shop, a pet store, a sporting goods store and more.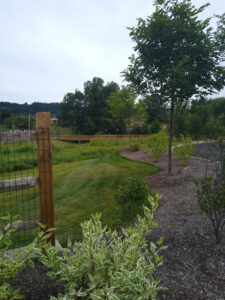 How many residents will actually cycle to these destinations remains to be seen. It's still quite difficult to safely get from here to there on a cycle in our suburban outpost, and mass transit is inconvenient and lacking, so cars, at least for now, are a must.
One of these complexes is surrounded by a massive swath of asphalt, which is hardly scenic. (And the lack of garage parking is likely to create some misery in the future, as we see more and more 95F+ [35C] days in the warm months.) But if you cycle around the edges, where the (nearly hidden) route to one of the centers is, the view is positively bucolic, as you can see from the photo above.
Raffi and I are at the edge of the parking lot, here, and almost all we can see is greenery (and the bridge that forms part of the bike path, in the distance). To the left, one shopping center is completely obscured from view by trees, though a busy road is visible along the front. Still, if you have to live in an asphalt jungle, and shop at a mall-ish place, you could do worse than glide along a tree-lined path between the two.