A Note About Accessories
August 3rd, 2021
Warning
: Undefined variable $comments in
/home/public/wp-content/themes/inove/single.php
on line
18
Leave a comment
Go to comments
Just a brief note to mention that my Di Blasi tricycle arrived a nice set of built-in accessories, including lights fore and aft, and a bell.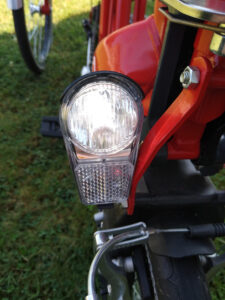 I've not been tempted to try the headlight at night — in my experience a really bright light is best at night! — but this one's bright enough to be seen, if not to see by.
The rear light is red, and flashes.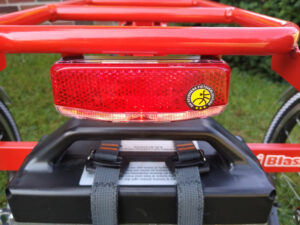 Neither one is dependent on Raffi's battery, and I assume they are also stock on the R32 trikes.
Owing to my inclination to deck myself and my tricyle out in florescent colors, I'm not sure that I'll be tempted to use the lights frequently, but I was just as happy that I didn't have to fuss with figuring out how to mount a set to accommodate Raffi's clever fold!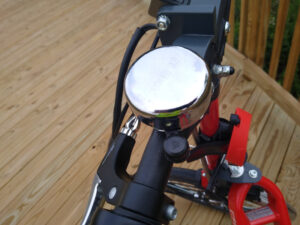 I was particularly happy that Raffi came with a bell — because of the specific shape of the handlebars, adding a traditional one would have been tricky. It's a pretty bell, and though not the loudest, seems to do the job perfectly well. It's a polite sound, rather than an aggressive one, as befits a little red trike, don't you think? (Though, in the end, I did add another bell. Check it out here.)