Handles for a Basket
Raffi can't be folded with the basket attached, and there may be times when I want to detach his basket to use it off the rack.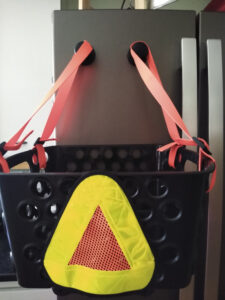 It's not that easy to carry a plastic basket while tooling around a store, library, or whatever. So I added handles.
In spite of their appearance here, they're screaming orange. I made them from a dog leash, which I disassembled. (Screaming orange webbing isn't the easiest thing to find in local stores.)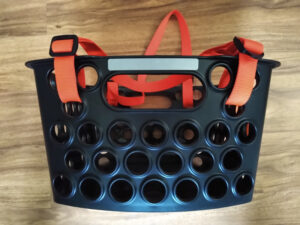 Raffi's basket is a BiKase Dairyman, which fits perfectly on his rear track, and has useful grab handles. Rather than thread my webbing handles through those, though, I left them alone — so they'd be easier to use in other circumstances — and threaded the webbing though holes in the side of the basket.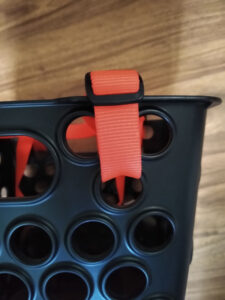 I was leery of putting too much stress on the upper edge of the basket, so I ran the webbing through holes in the second tier below the upper edge. And I didn't do anything fancy with the buckles — they're just t-bars. The webbing fits snugly, and it just has to function in relatively light use, so I eschewed anything more complicated for attachment.
Best of all, when not in use, the straps become completely irrelevant, and just flop in the bottom of the basket. Perfect, all around!