Saturday Market
What better way to start the weekend? We took Raffi and his Brompton sibling to the farmer's market.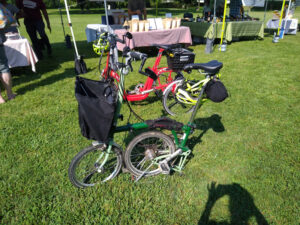 Raffi's in back, today. His sibling has a lovely, large, Brompton basket on the front.
Raffi has his own basket, and cooler, on his own rear rack. We haven't needed an ice pack yet, but that's something we may want later in the summer. We've had only a few intolerably hot days so far this year, but we're expecting that might change in August.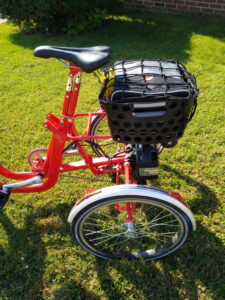 This particular market is still less a farmer's market than a small, local business, market, with a number of enticing things that are perhaps more staples than items we'd buy weekly — honey, wine, and, this week, lavender. There were a few more stands, this time, and different ones than the ones we saw last week, so apparently we can count on things changing up each week.
I imprudently bought a couple of small goodies from this bakery — they were delicious!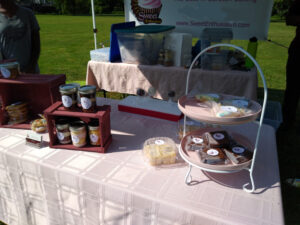 Fortunately, there was a good selection of veg, too, at a couple of stalls, all beautifully arranged: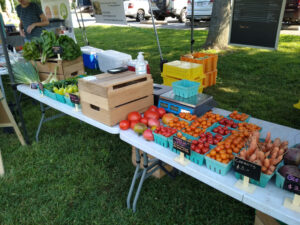 We took home a slew of peppers, some beautiful purple onions, several cobs of corn, and some greens for the coming week. The mushrooms stall from last week was absent today; we missed it!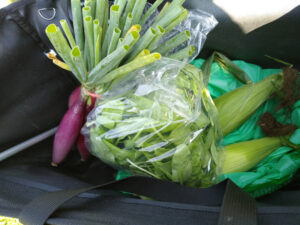 We saw more people without masks today than last week. Covid Delta has not fully hit here yet, but we're hoping people will be a little more cautious in the weeks to come. Masking is, in the end, such a simple way to provide reasonable safety for everyone. Kind of like the advantages of glasses — no one would choose to wear them, but what a difference such a simple device makes to health and welfare! In the end, it's such a small effort to make for so much benefit.