A Saddle Bag for Raffi
It's never a good idea to go out riding without a few minimal essentials. I like to carry a few basic tools, thin vinyl gloves (for messing with chains, if necessary), and, these days, a mask. I might not wear the mask while riding, and away from others, but if I stop anywhere, I want to make sure I have one on hand.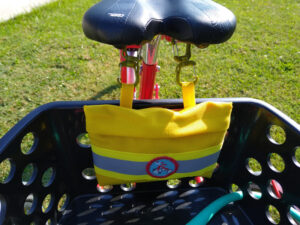 A conventional saddle bag wasn't going to work well for Raffi, so I made one.It's just a rectangle made of Cordura, with a ripstop lining, two pockets inside, a zipper, and squared-off corners.
I added a band of reflective tape across the front (why not?) and an embroidered patch with — what else? — a red tricycle on it. The patch is from Demerit Wear — source of all kinds of embroidered fun.
Rotating hooks make quick work of snapping it on or off Raffi's saddle rails, and it's small enough that I can leave it on Raffi even when he's folded.
The hooks attach to loops in the back, and there's a vibrant band of webbing across the top back to give a little more support to the loops — and to add a little joie de vivre!
I don't have any affiliation with Demerit Wear (or Di Blasi!), except as a paying customer. See my Disclaimer page.